Software - PetLinx
What Is PetLinx?
PetLinx is a professional and user friendly software package designed be the complete solution for pet grooming, pet boarding (kennel and cattery), and dog daycare businesses. PetLinx has been created to be as simple and clear to use as possible. You won't spend hours searching around our software to find the information you need! Backed up by FREE and friendly support, with improvements and new features being continually added, and very competitively priced. Visit PetLinx.com https://petlinx.com/ for
full information and to register for a free trial.
Who Uses PetLinx?
Pet groomers (salon and mobile), pet boarding businesses, kennels and catteries, dog daycare businesses, dog trainers - any business within the pet care industry.
*** Special Offer ***
OZ Grooming World customers are eligible for a 10% discount on the first year of a PetLinx subscription! Simply use the code OZGROOM22 when ordering at the PeLinx Store https://store.softwarerevolutions.com/estorestart.aspx, and enter your OZ Grooming World username when prompted for verification purposes.
Detailed Record Keeping
Record full information of your Customers, Pets, Bookings, Invoices and Payments, Retail Products, Business Contacts, and Employees.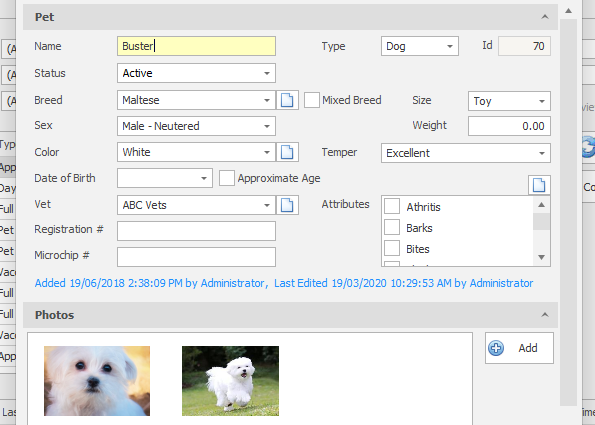 Quick and Easy Invoicing
Create, print and email invoices from completed bookings and/or retail product sales.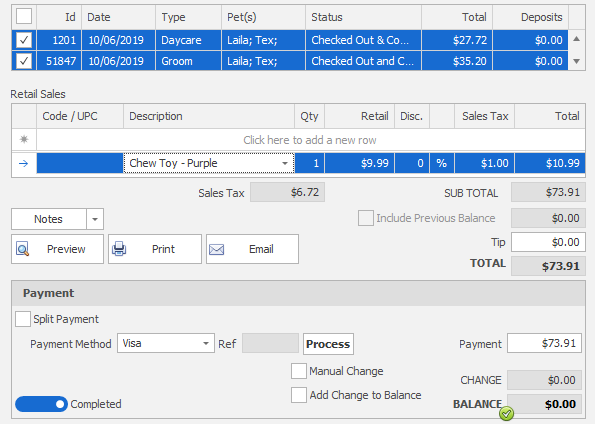 Powerful Search Function
Find information quickly and easily, using ANY criteria (for example locate a customer using a combination of name, phone number, and pet name).
Automatic Messaging
Reduce no shows with automated booking reminders, even send vaccination reminders and pet birthday cards via email or SMS.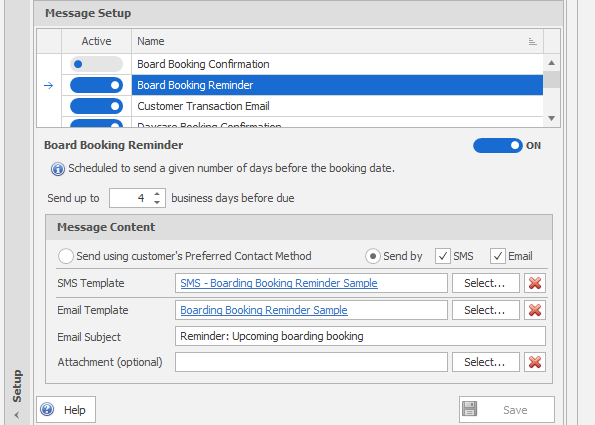 Email and SMS Templates
Easily create professional looking content, send mass emails and SMS to your customers using your own personalised templates.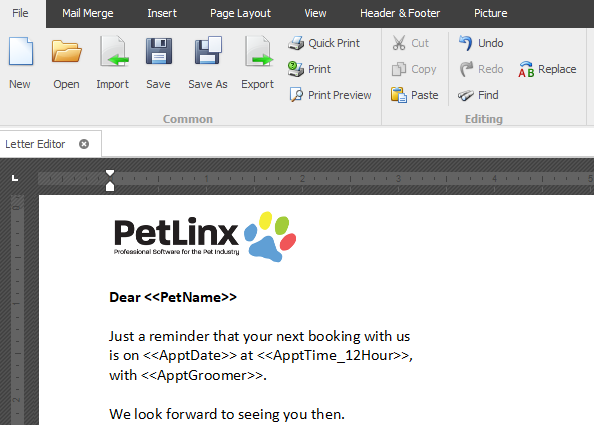 Customize Any Report
All PetLinx reports can be customized with the powerful Report Editor - add your logo and make your own invoice!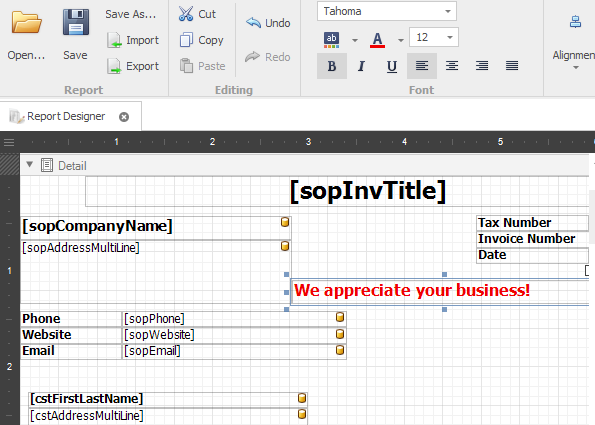 Accounting Integration
Export customers, vendors, products, services, and invoices to Quickbooks (Note: your Quickbooks version must support importing IIF files. You do not need Quickbooks to use PetLinx).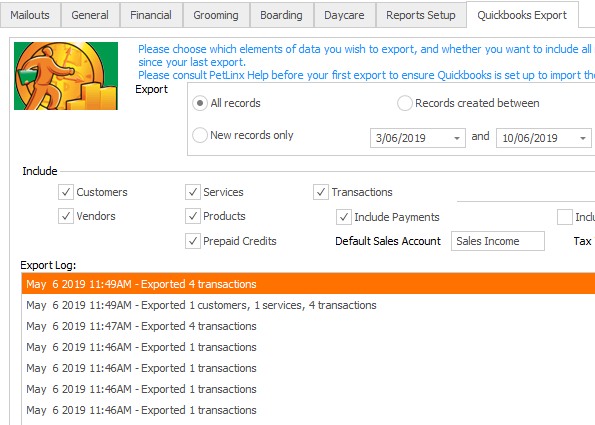 Personalize It Your Way
Completely change the look of PetLinx to what suits you best by choosing one of the themed "skins".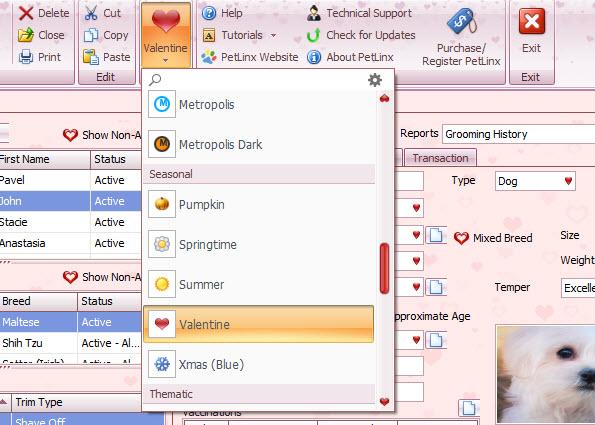 Comprehensive Reporting
A wide variety of statistical and financial reports and charts are available to provide an insight on any aspect of your business.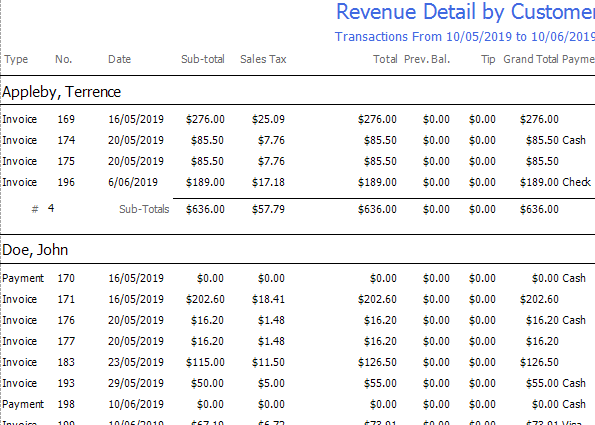 Manage Your Groom Schedule
View your workload at a glance by day, week, work week, or month. Drag and drop to change a booking date, time, or groomer.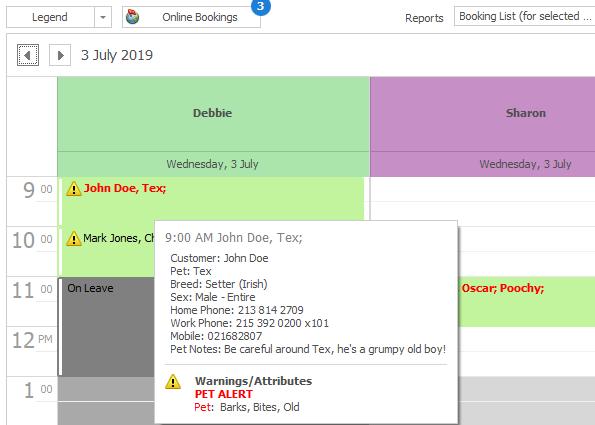 Grooming Bookings
Quickly create bookings with multiple service and charging options. Auto-create future bookings based on customer visit recurrence periods.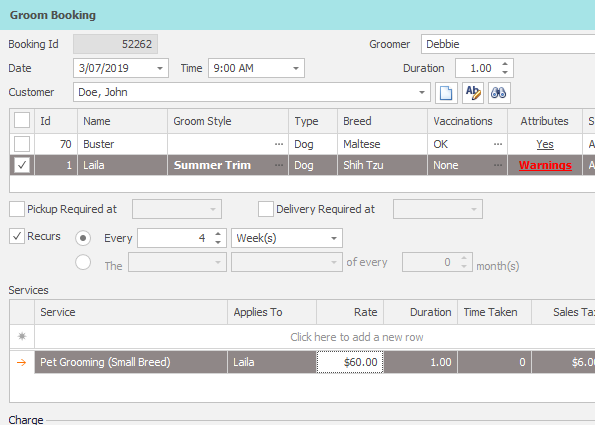 Individual Groomer Definitions
Each groomer can have specific working hours defined, a limit on the number of daily pets, and even their own color.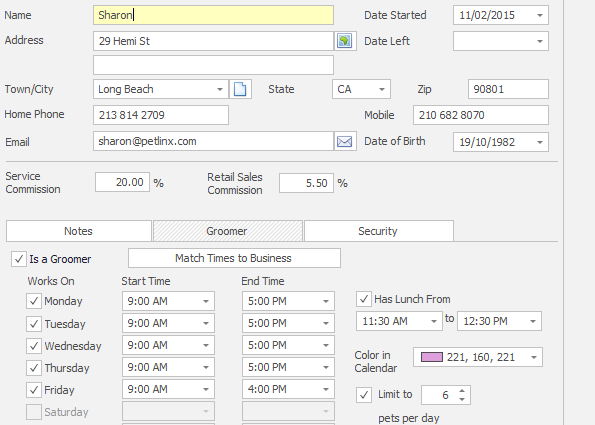 Detailed Grooming Styles
Define multiple grooming styles (e.g. Summer, Winter, Show) per pet and choose which is required for an upcoming booking.
Manage Your Boarding Schedule
View bookings quickly for any date. Color-coded bookings easily identify check ins, check outs, occupied and full runs. Drag and drop to change booking dates or runs.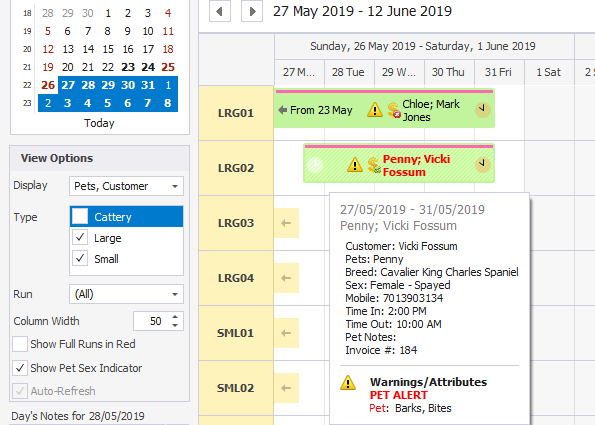 Precise Run Selection
View availability for the duration of a booking and split it between multiple runs if required to maximize capacity.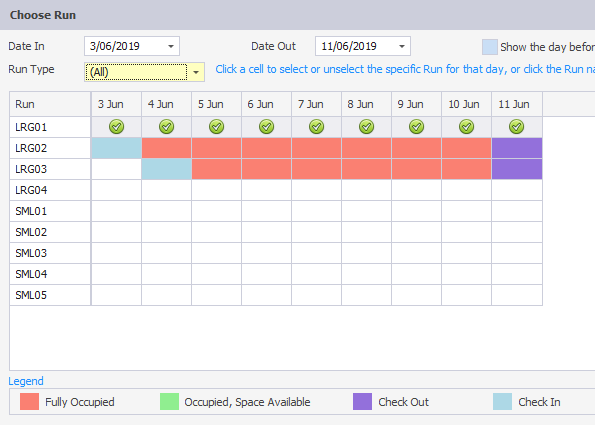 Boarding Bookings
Add details of any specific activities, feeding, and medications to a booking and have the charges automatically calculated.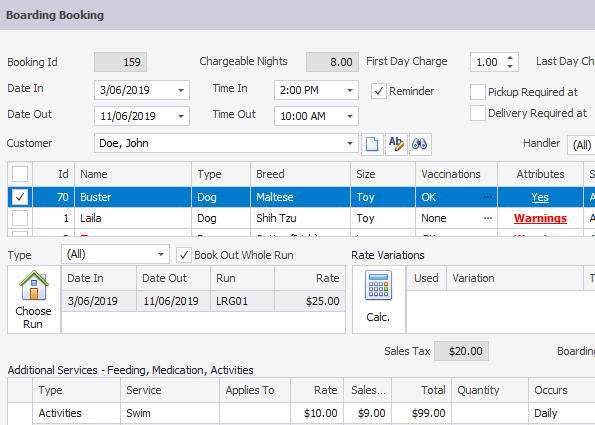 Boarding Charges Simplified
Charge by pet size or run type booked, and have the charge automatically adjusted based on the season, length of booking, or number of pets.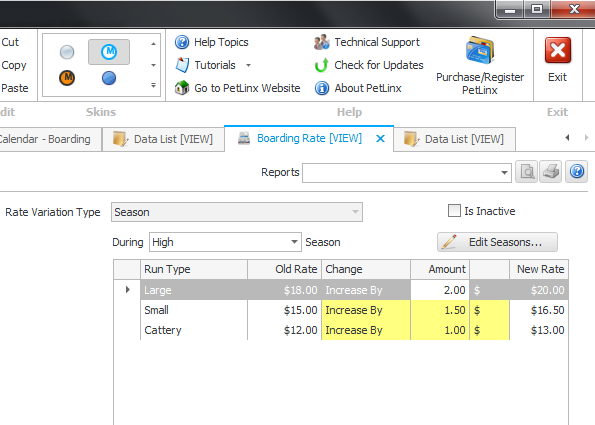 Manage Your Daycare Schedule
Manage your bookings in either a daily or work week view, grouped by the daycare groups that you define. Be alerted to customers or pets with warnings or customers that are running low on credit.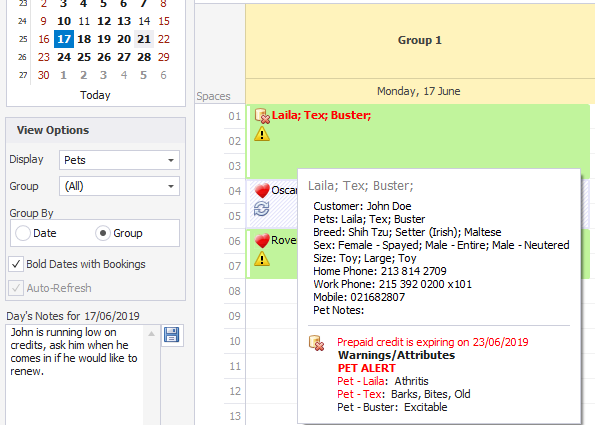 Daycare Bookings
Create detailed bookings that can be set to automatically repeat every week on specific days with personalized services.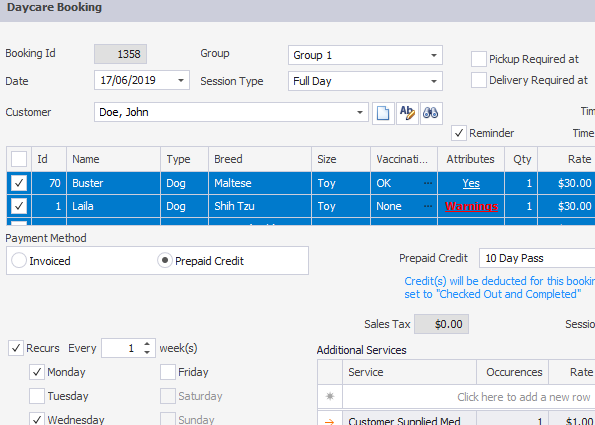 Prepaid Credit Tracking
Offer your customers Prepaid Credits, enabling them to pay for multiple bookings ahead of time.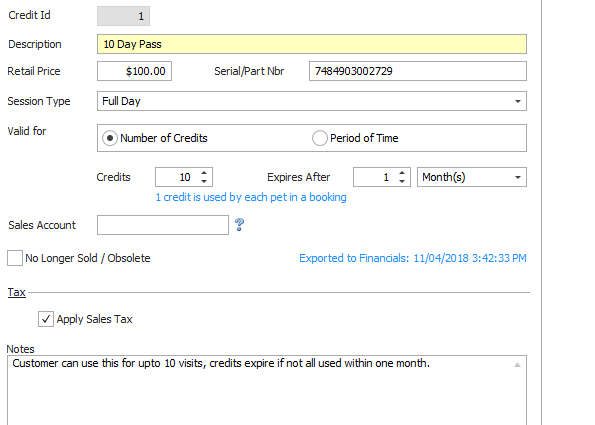 Customer Credit Status
A customer's prepaid credit status can be quickly checked on arrival. Prompt the customer to purchase more when credits are running low.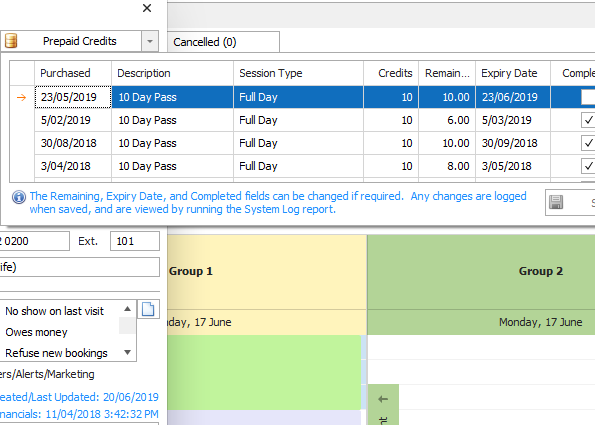 BookMy.Pet - Customer/Pet Info
Our online portal, BookMy.Pet, enables your customers to maintain their contact information and details about their pets.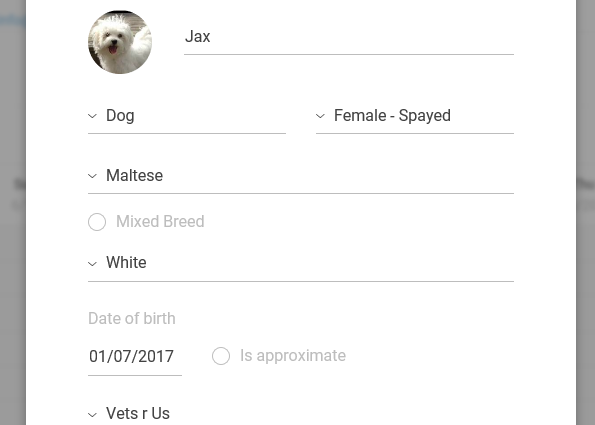 BookMy.Pet - Booking Requests
Your customers create booking requests in BookMy.Pet, these flow through into PetLinx where you can accept or decline them.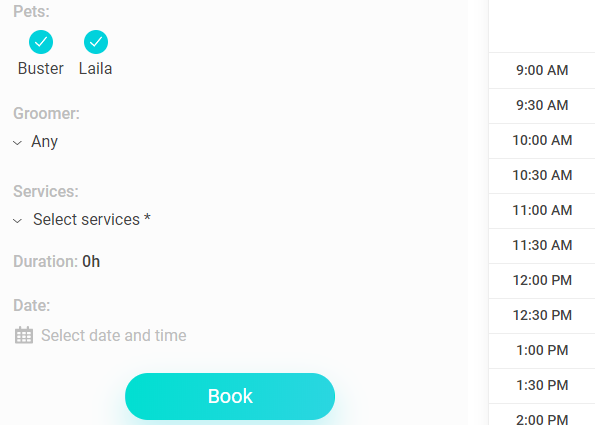 BookMy.Pet - Your Business
BookMy.Pet is branded with all your business contact information including your logo.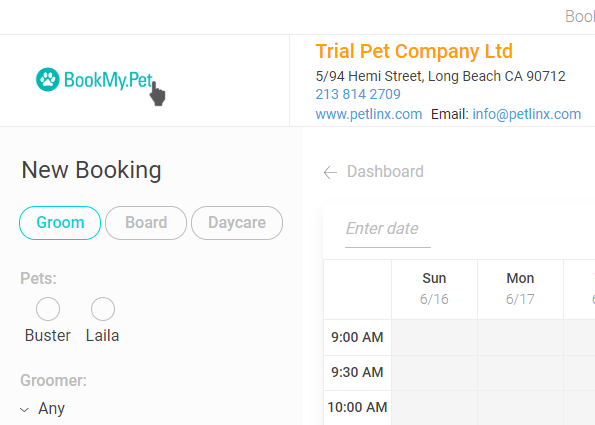 BookMy.Pet - Mobile Friendly
BookMy.Pet works great on mobile devices, so your customers can request new bookings whenever and wherever they feel like it.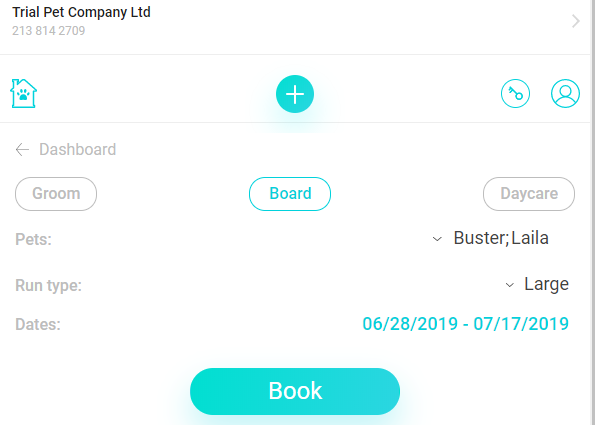 FREE Mobile App
Take new grooming bookings or add new customers and pets at any time with our simple to use app.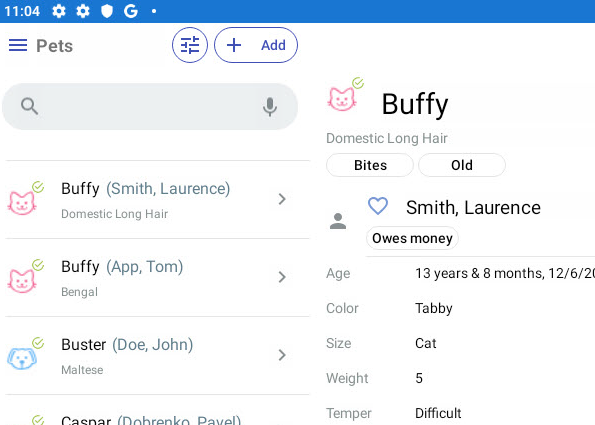 ---
This category is empty! Please try another category or use our search function to find what you are looking for. If you require further assistance please contact us.