Afterpay


Shop Now with OZ Grooming World, Pay Later with Afterpay
Afterpay is an interest-free payment method that you can use to complete your furniture purchase at Furniture Wizard. With Afterpay, you can split your purchase over 4 equal installments that are due each fortnight. Here's how it works: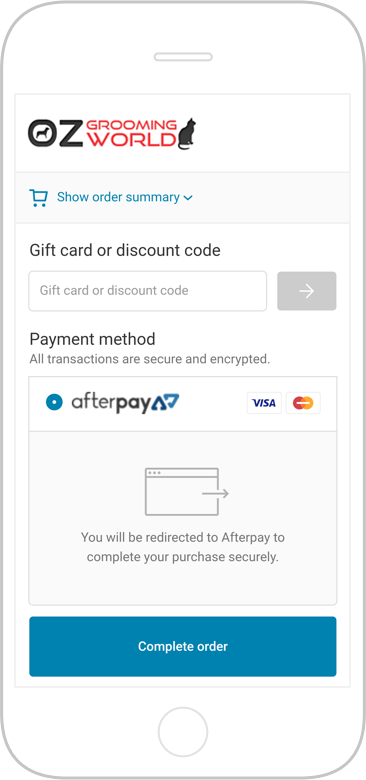 Select the Afterpay Payment Option at Checkout
When you're ready to buy, simply choose Afterpay as your payment option during checkout. You must be over 18 years of age and live in Australia.
Choose How to Pay Your Installments
Afterpay then splits your purchase over four equal installments due every fortnight. Nominate the debit card or credit card you want to use. The total purchase limit is $800 using a debit card or $1000 using a credit card.
Receive Instant and Secure Approval
No long forms or detailed personal information. Afterpay simply uses your nominated bank card to process your application on the spot.
Enjoy your purchase!
Your order will be shipped immediately. Afterpay will remind you when payments are due and will process your payments automatically. Next time you shop with us using Afterpay, we'll have all your details saved and ready to go!
NB: Maximum purchase value using Afterpay is $1,000. Afterpay is a third party. For more information view the terms and conditions.