The TLC-50 Zoologica Series II: Altricial species of birds (including all parrots and birds of prey) are blind and helpless when they hatch and it is some weeks before they are able to move around, control their body temperature and feed themselves. They need a hygienic and temperature-controlled environment to thrive and the Brinsea TLC-50 Zoologica Series II Brooder, designed alongside leading parrot breeders, is ideally suited to this. As they grow and develop down and feathers, they can gradually tolerate lower temperatures and the breeder needs to be able to reduce the chamber temperature easily, whilst still maintaining control. Young birds also benefit from being able to see humans from within the chamber through the clear door during this early stage in their development.
Control system: With accurate and calibrated digital temperature control, the TLC-50 Zoologica Series II gives the user precise and accurate temperature control that can be adjusted at the push of a button. The digital control system shows temperature in either °C or °F and includes dual adjustable alarms to warn of variations of temperature inside and outside the cabinet beyond user-set thresholds. Simply alter the temperature in 0.1°C increments by using the digital controls to adjust between room temperature and 38°C. The digital controller guards against accidental temperature adjustment.
Airflow: Airflow in the TLC-50 Zoologica Series II has been carefully optimised to ensure consistent distribution of heat, so that all hatchlings are at the same temperature but with the fan maintaining gentle air speeds with positive pressure so that down, fluff and dust are not blown around. The Zoologica model features variable fan speed allowing the user to reduce background noise levels still further for particularly stress-sensitive birds. A twin stage air filter ensures that harmful bacteria and fungal spores are removed from the brooding chamber.
Observation of hatchlings is aided by a switchable internal light which safely illuminates the chamber interior.
Humidity: Warm air can result in dehydration so the TLC Zoologica models manage humidity levels with a precision digital humidity control system which maintains levels set by the user up to at least 65% RH under typical ambient conditions. An adjustable vent is fitted to the door which may be opened or closed to give greater control of humidity and fresh air flow. The water evaporation reservoir is removeable for easy cleaning.
Cleaning: With hygiene a top priority, the TLC-50 Zoologica Series II has been carefully designed to make cleaning as easy as possible. The smooth, easy-to-clean interior has no vulnerable edges for animals to chew. The whole unit can be easily disassembled for easy and effective cleaning.
Protected by Biomaster Antimicrobial Additive: Protected by Biomaster Antimicrobial Additive: To reduce the risk of infection Brinsea incorporate Biomaster Antimicrobial Protection into our incubator cabinets during manufacture. Biomaster Protection is embedded within the plastic itself which prevents the growth of harmful bacteria helping to provide the optimum environment for young animals. Proven to quickly reduce bacterial growth by up to 99.99%
Disinfecting tip: Please make sure that disinfectant is thoroughly rinsed off plastic parts after cleaning and avoid alcohol based solutions to avoid gradual embrittlement of plastic parts.
We have come across a small number of instances of plastic parts of the TLC incubators/brooders becoming degraded, brittle and breaking – particularly around the screws on the door hinges) due to the action of some disinfectants. To avoid this please don't use disinfectants containing alcohol and take care that all traces of disinfectants or cleaning agents are rinsed away with water after cleaning, especially around the hinge screws.
Filling the water reservoir: Your TLC-50 Zoologica Series II is fitted with a water reservoir which humidifies air as it is drawn into the heater enclosure. Use a solution of Brinsea Incubation Disinfectant (1 part concentrate to 100 parts water) in the water reservoir (pan) to inhibit bacterial build-up. It is recommended that the reservoir is topped up with solution daily to reduce dehydration. The evaporating block and filters can be carefully washed by hand but they do need changing regularly.
PLEASE NOTE: The low room temperature alarm may be triggered at approximately 15°C to provide early warning of compromised performance.
Features:
Accurate and calibrated adjustable digital temperature control
Display choice of °C or °F
Temperature alarm
Room temperature alarm
Digital humidity display
Digital humidity control
Increased humidity range reaching at least 65% RH under typical ambient conditions
Positive pressure with gentle fan ventilation
Variable fan speed for particularly stress-sensitive animals
Twin stage filter, for removal of harmful bacteria and fungi
Peristaltic water metering pump to automatically control the relative humidity in the chamber [it has a built-in humidity pump]
Internal LED light with on/off switch
Tough, clear hinged door with secure catch
Smooth, easy-to-clean interior
No vulnerable edges for animals to chew or claw
Protected by Biomaster antimicrobial additives
Mains power supply
Customer support online, by email and phone
Servicing options outside of guarantee period
Made in UK
Specifications:
External dimensions: 690 mm (W) x 490 mm (D) x 550 mm (H)
Internal dimensions: 635 mm (W) x 457 mm (D) x 355 mm (H)
Floor area (mm) 600 mm x 400 mm
Effective volume (litres) 100
Max. power consumption (Watts) 150
Typical running power consumption (watts): 85
Power supply Australian Plug 230v 50Hz
Weight: 11.2kg
This model is the top of the range of all the intensive care units.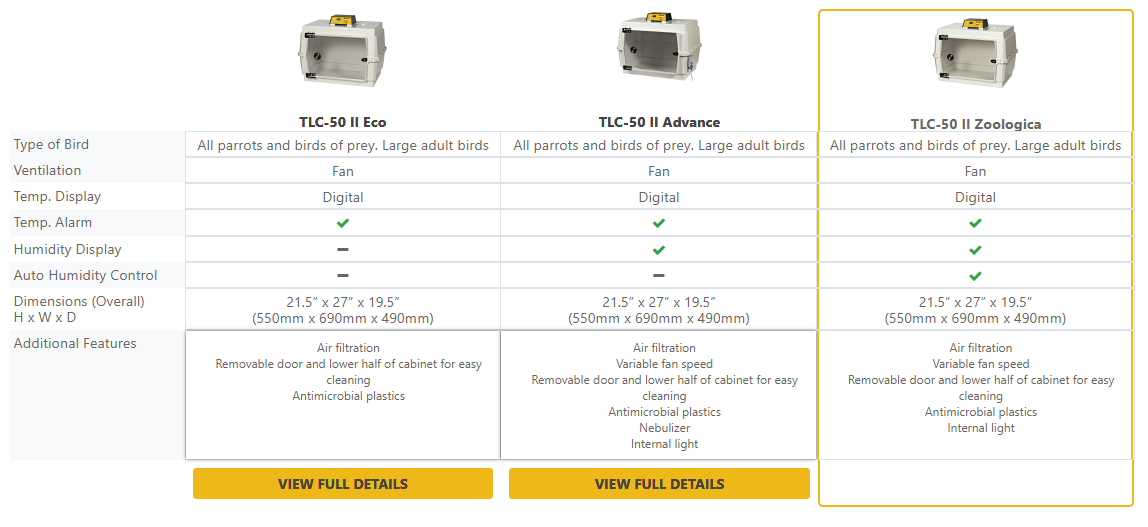 (BR-HD4121)
| | |
| --- | --- |
| SKU | BR-HD4121 |
| Brand | Brinsea |
| Shipping Weight | 12.0000kg |
| Shipping Width | 0.620m |
| Shipping Height | 0.830m |
| Shipping Length | 0.490m |
| Shipping Cubic | 0.252154000m3 |
Be The First To Review This Product!
Help other OZ Grooming World users shop smarter by writing reviews for products you have purchased.
---
You May Also Like
---
Others Also Bought
---
More From This Category